Crazy about designs ? if yes then this post absolutely for you. I created a animated flip social share plugin that's help you to attract people. I'm saying it "Sharing is Sexy" because it's lazy and Animated Social Share Plugin.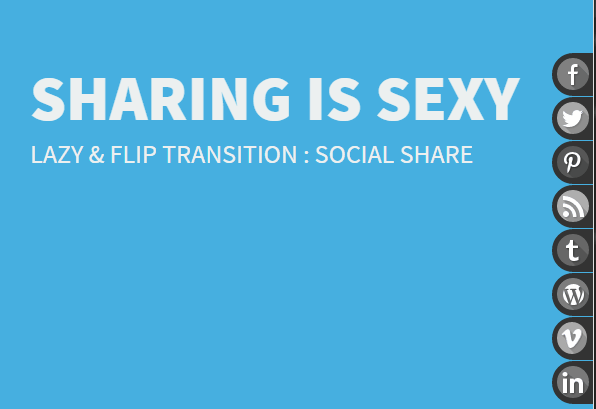 It's working well on static/dynamic websites and blogs. So first you should check demo then we will discuss how you will implement.
How it Works ?
This plugin developed using latest CSS 3 and it's effects, there is no use of Javascript so it's perfect advantage to work smoothly without hassle. Transition and Filter Gray it's most effective Css properties.
I will share complete code so no worry you can check all things and make changes as you need.
Setup With Static and Dynamic Sites:
First you need to download complete code from above link and extract folders, upload share.css to your css directory and images in img directory and give css source in head of your webpage.
After that copy from <div class="fix-container"> <ul class="fix"> ..../// </ul> </div> and put anywhere in your webpage before closing of body tag and change with your social URL in every <li>.
Setup With WordPress and Google Blogger:
There is two way for WordPress users:
1- Use with our image hosting  or  2- Want to use with your own image hosting.
If you want to use with our image hosting then just copy below code and follow next step.
Click on Appearance > Widgets > Text and add paste above code and make <li> links as you need, no need to do anything else.
If you want to use with your own img hosting then put css and imges in coresponding folder in your template directory.
Install Share is Sexy Social Plugin on Google Blogger :
Copy above code and goto Layout > Add Gadget > HTML/Javascript and paste copied code and also makes changes in <li> as your social links. You can check demo on blogger from Here !.
I hope you will love this Social Plugin, let me know your views. Thank you !